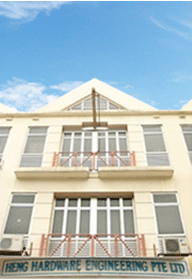 Heng Hardware Engineering Pte Ltd
since 1971 now known as Heng
HENG HARDWARE ENGINEERING PTE LTD started in 1971 as a manufacturer for Lightning Protection System Accessories and Cable Glands, known today as HENG.

HENG takes pride in quality products, which are tested by the local laboratory, and conforming to the Singapore Code of Practice, in short named CP33. Our insistence on quality products and our consistency in maintaining them have proven our existence and built up our history in the construction industry for the past 30 years.

HENG has a team of delegated and responsible staff who strive towards constant improvement in products and services to all customers in Singapore and Southeast Asia. HENG has and will always perform stringent quality control over the products and practice full attentiveness to meet customers' request in all matters arising regards to Lightning & Grounding. Been equipped with reengineering capabilities, we are able to provide full technical support to field engineers and facilitate all levels of our clientele base which includes the consultants, main contractors, building owners and contractors in their projects.

Besides manufacturing the full range of Lightning & Earthing Protection System and Cable Glands, we have been working in close and efficient collaboration with our network of specialized Principals in providing a Total Integrated Solution in Lightning & Grounding System to our building industry.

With more than 30 years of experience in the construction industry, we lay claim that we are the specialist in the field of Lightning and Earthing Protection and you can be assured of our expertise and service in all your prestigious projects.